Book Review: Meaty by Samantha Irby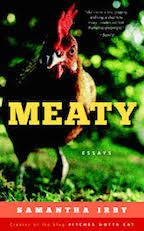 Meaty
Essays by Samantha Irby
Curbside Splendor Publishing, October 2013
ISBN: 978-0988480421
$15.95; 250 pp.
Reviewed by Renée K. Nicholson
In a collection as poignant as it is hilarious, Samantha Irby talks to her reader like a trusted girlfriend, a confidant. From childhood embarrassments, dating woes, her battles with Crohn's Disease and difficult family relationships, Irby always peppers her heartache with humor. She discusses homelessness and losing family members with the deceptively flippant tone she uses to chastise women who submit to baby food diets. In these essays, nothing is off limits, presented in a style that features all caps, much swearing, and that can turn from literary essay to gossip rag on a dime.
Irby gains our trust through her candid tone and the way she unabashedly reveals herself. In talking about Crohn's Disease, a chronic, inflammatory condition that affects the bowels, her off-the-cuff style undercuts the seriousness of her condition:
There's no known cure for Crohn's. I just keep dutifully taking my pills and trying not to drink so much and trying even harder to stay away from fancy French cheeses. Right now I'm not on steroids or rheumatoid arthritis drips, and I'm no longer on immunosuppressive drugs either. I haven't had to Depend on special undergarments (see what I did there?!) in months. No rubber sheets. No scopes, no xrays, no scans, no colonoscopies, NOTHING.
She gives us an unflinching glimpse of what it is like to manage a chronic condition without pity, but underscores it with a pun on Depends, the adult diaper. And Irby takes a similar tack when discussing other topics. In "My Mother, My Daughter", an essay that originally appeared in The Rumpus, she fuses humor with the horror of an accident her mother had been in:
I found her standing in the kitchen sipping a cup of coffee, the instant kind you mix with hot water that came in a gallon-sized drum for $2 at the dollar store and smelled like cat pee. One side of her head was bandaged, and there were some cuts on her face. She explained that she'd fallen asleep while driving and had been blindsided by another car. My mom hadn't been wearing a seatbelt and was thrown across the front seat, smacking her head pretty hard against the rearview mirror in the process. There had been an ambulance, and a trip to the emergency room. The Dodge was totaled. All while I was working on my stupid spelling worksheet.
All aspects of the essays in the collection reveal something of the writer's mindset. Even Irby's titles make use of her over-the top-humor, such as "How to Get Your Disgusting Meat Carcass Ready for Some New, Hot Sex." One could say that Irby takes frankness in the essay to new levels. From her bowel movements to her sex life to caring for her dying mother as a teen, no terrain is sacred for Irby, and so subject too personal. Yet, she manages to make subjects that shouldn't be funny fill with an irreverent humor that never allows her the role of victim.
Many of these essays stemmed from Irby's popular blog, Bitches Gotta Eat, and the collection retains that informal blogger style. It's confessional, witty, and performative on the page. While her sense of humor may not be for every reader, and for others the sections in all caps and the many and varied expletives might be too much, her essays retain the spontaneity of the Internet and blogging culture where her writing roots began. There is an everyday quality to the writing, as if each essay is a conversation already in progress, where insecurities and desires play out in tantalizing and brutal honesty.
Renée K. Nicholson lives in Morgantown, WV, splitting her artistic pursuits between writing and dance.  A former professional dancer, Renée earned teaching certification from American Ballet Theatre and an MFA in Creative Writing at West Virginia University. Her writing has appeared or is forthcoming in Chelsea, Mid-American Review, Perigee: A Journal of the Arts, Paste, Moon City Review, Fiction Writers Review,  Redux, Cleaver Magazine, Poets & Writers, Dossier, Linden Avenue, Blue Lyra Review, Switchback, The Superstition Review, The Gettysburg Review and elsewhere. She serves as Assistant to the Director of the West Virginia Writers' Workshop, and was the 2011 Emerging Writer-in-Residence at Penn State-Altoona. She is a member of the book review staff at The Los Angeles Review, as well as a member of The National Books Critics Circle and of the Dance Critics Association. Renée co-hosts the literary podcast SummerBooks and co-founded Souvenir: A Journal. Her website is www.reneenicholson.com.
4 responses to "Book Review: Meaty by Samantha Irby"